The idea below is one of the many from our 2023 Occupant Experience Ideabook (which you can download here). Today's idea is from Openpath, a Motorola Solutions Company's James Segil, Vice President, Video Security and Access. He discusses how important the use of technology for security purposes is, especially in regards to the return to the office.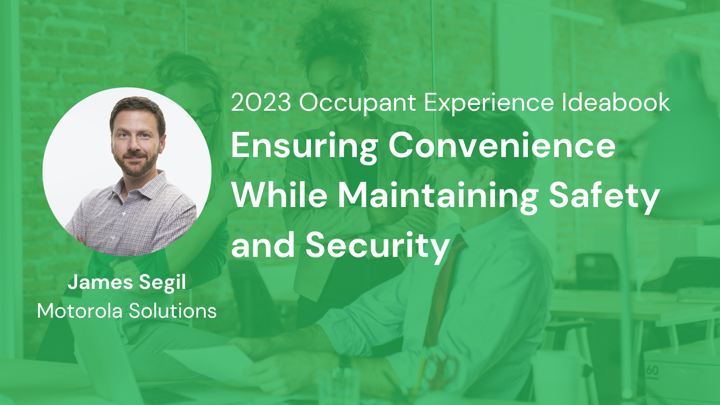 James Segil, Vice President, Video Security and Access, Openpath, a Motorola Solutions Company.
In 2023, people are heading back into the office, with hybrid and flexible work remaining a top priority. With occupants coming and going at all hours, safety and security are still top of mind, but not at the expense of convenience.
Technology plays a key role in creating seamless, modern experiences for occupants. By unifying systems and investing in cloud-based technology, businesses can create experiences that are more efficient at both the property management level and the user level.
Operators will be looking for technology that makes using and accessing the building easier and bolsters security at the same time. For example, integrating access with desk booking tools lets users better manage their own schedules, automatically syncing with their credentials for their specific entry time and locations.
Streamlined building and property management systems in the cloud also allow teams to focus more on providing amazing experiences for tenants, from anywhere. Unified video, access, visitor and tenant apps produce insightful data streams that improve visibility, leading to better space management and decision-making. The cloud is making building holistic, integrated systems easier and more effective, and it's only getting more powerful as adoption rates grow.
To read more ideas from the 2023 Occupant Experience Ideabook, download here.