The idea below is one of the 20+ ideas from our 2022 Workplace Experience Ideabook (which you can download here). Today's idea comes from Iron Mountain's Dan Anninos, who discusses the impact of the office on collaboration and interaction.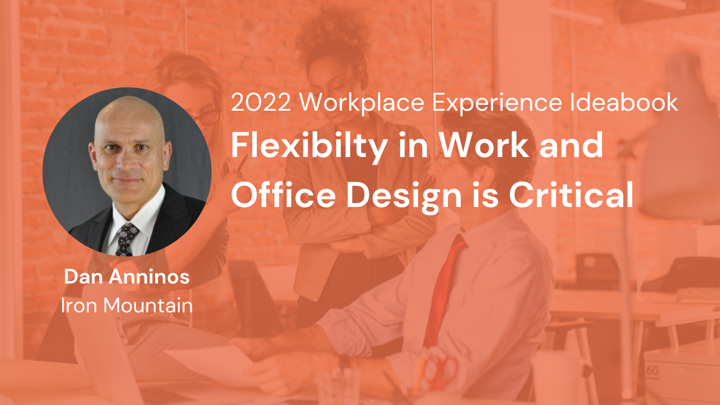 Dan Anninos, Vice President, Facility Program Management, Iron Mountain
The pandemic highlighted that teams and individuals were productive outside the traditional office space however this arrangement also highlighted challenges of blending the home office and work office "institutions". We went from one extreme of the work office being the only place where collaboration, innovation and work takes place to the other extreme where these activities had to occur from the home office. We witnessed success in both locations and found opportunities to improve the collaboration and productivity in both locations.
For example, international collaboration is more productive from the home office primarily due to time zone differences and commuting is not a factor while "walk-by" productivity and coordination can only occur within the office space which is an efficient means of "getting things done" versus having to schedule on-line meetings each and every time to collaborate. The future location where work occurs and the design of the space must be flexible. Think of it as a venn diagram where at times the two do not intersect and at times the two intersect. This balance is essential to meet the demands of growth, productivity, collaboration and quality of life in both work spaces.
The redesign of the office space must also provide this flexibility where there are less individual "sole-owner" spaces and more open spaces designed for collaboration and interaction at the food market place or in team rooms, for example. Finally, in order to attract talent, today's and future workforce desires the flexibility to work in both environments and enable a balanced work, home, family and social life–not to mention the benefits of reducing the stress of everyday commuting and impacts to the environment. 
To read more ideas from the 2022 Workplace Experience Ideabook, go to our download page.