The idea below is one of the 20+ ideas from our 2023 Workplace Occupant Ideabook (which you can download here). Today's idea comes from Eric Graham, CEO of CrowdComfort, who discusses how to optimize cleaning and energy usage through CrowdComfort's cleaning tracking service.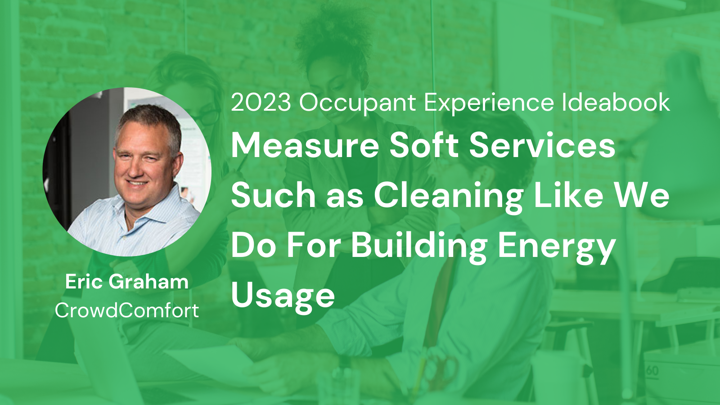 Eric Graham, CEO, CrowdComfort
The kilowatt hour has been an industry standard in our industry for energy efficiency in our buildings for over a decade now. And there is a multi-billion dollar industry surrounding the measurement and utilization of this data. However, we've greatly neglected this type of measurement for the soft services that impact the occupant experience in greater ways and are a considerable part of our budgets.
Let's face it, services like cleaning and facilities services were a necessary cost of doing business before the pandemic. However, as we begin to reinvent our spaces and strategies, there is a huge opportunity to drive better experience, efficiencies and savings. Take cleaning for example, we spend over $340 billion dollars annually on commercial cleaning but there are very few standards in how we track that the work paid for is completed every day. The answer is not to "not clean" spaces but to clean them in the most effective way possible.
With hybrid usage of our spaces and more constrained budgets in providing healthy, safe and productive environments, it is integral to capture and analyze the data to make strategic decisions. How many people do we need to clean a floor or building? Who is our top performing custodian? Is our cleaning vendor doing the work according to our contracts? Do we know if we are getting what we are paying for with all of our human delivered services including custodial, safety compliance or maintenance services?
The start is ensuring the work is being done by your cleaning, facilities and vendor teams every day. The next step is starting to optimize the efficiency of our teams, recognize and reward top performing front line employees and right size our budgets and teams to fit our strategy.
This all lends itself to new metrics to evaluate our strategy. And just maybe, we will begin developing a "kilowatt hour" for how we evaluate our soft services.
To read more ideas from the 2023 Occupant Experience Ideabook, go to our download page.