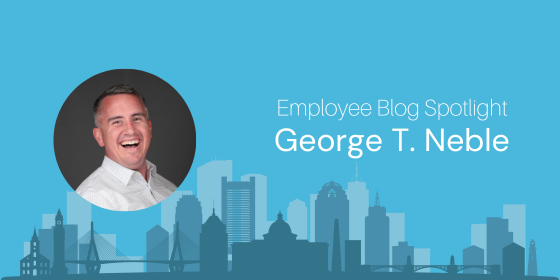 At CrowdComfort, we understand that the people make the company. That's why we wanted to highlight those that make our company great by introducing you to them through employee blog posts. You'll have the opportunity to take an inside look into our team's jobs and life, letting you know them beyond the CrowdComfort logo.
In this blog we interview George T. Neble, our Vice President of Sales, who shares the different hats he wears to support company development. Learn about his career, day to day life, and passions and philosophies that inspire him and make him an amazing person to work with. 
What is your job title and what do you do on a daily basis?
I am the Vice President of Sales and I have been with the company since September-October 2020. As the vice president of sales I try to support my team in any way I can, acting as a little bit of a cheerleader and support system, and wearing whatever hat I can to support existing and prospective customers. One of the things I try to do involving the customers is drive any activity I can on the back and front which involves doing some outreach and meeting with members to ensure that sales run smoothly. It sounds very general but it's just because I try to do anything I can to help the company on the business development side because we are smaller than most so I end up covering a broad range of tasks and ideas. 
How many years have you worked at CrowdComfort and how have you seen your position evolve/responsibilities change? 
I've worked at CrowdComfort for close to three years and I've earned quite a few gray hairs since then––although my kids are probably responsible for most of those. I was very fortunate to come on right as CrowdComfort introduced their cleaning maps which has been a tremendous avenue for growth in the company for the past two or three years. 
I mean I've always been rooted in the business development side of the company so I haven't seen too many changes in my position but I've instead watched my team and company grow. That growth has always been amazing to not only watch but be a part of as I can help push the sales team and development of the company forward through my evolving responsibilities and actions. 
Favorite part about working for CrowdComfort? 
My favorite part about working at CrowdComfort has actually been the product. I feel like most people might go ahead and say people, which I agree with because we have so many great people to work with but the product that CrowdComfort has has always been what drew me in. I actually used to work for a company that used CrowdComfort through the workplace request applications so I had a lot of familiarity and appreciation before I started working here. 
With our product we are a part of a solution that is simple to not only deploy but to understand as it's so easy to explain and grasp. I always say that this is the first company I've worked for that my mom understands what I sell there, as I'm pretty sure she just used to tell people I sold solar panels. So it really feels like I'm working with a product that is useful and significant to a lot of different people out there. 
Do you have any hobbies or interests?
So I am a husband and dad to two boys under four living and I enjoy spending a lot of my time outside of work with them getting in some family time. We try to get outside a lot and do whatever activities we can to soak up quality time together. I love the New England Patriots and am fortunate to have season tickets, so I love going to games to watch them in person. I try to go to as many games as possible but otherwise I am always able to watch all the games and keep up with how they're doing. I am in the parent stage of my life so I don't do quite much else hobbies wise but I wouldn't have it any other way. 
Do you have a quote you like? 
"Full tilt full time" 
Anything you bring and anything you do make sure you're always putting a hundred percent towards it. When you're delivering something or creating a product there is no off switch because you have to be dedicated to your craft and be ready to rock and roll. It's a simple quote as I'm not a big wordsmith but I've always tried to live my life that way by bringing enthusiasm and energy to everything I do.