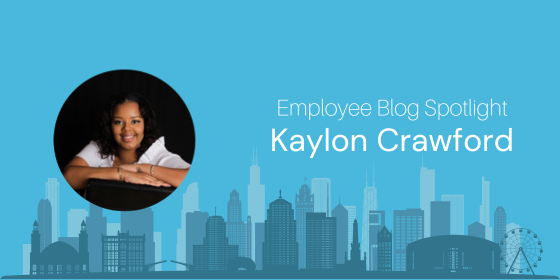 At CrowdComfort, we understand that the people make the company. That's why we wanted to highlight those that make our company great by introducing you to them through employee blog posts. You'll have the opportunity to take an inside look into our team's jobs and life, letting you know them beyond the CrowdComfort logo.
In this blog we interview Kaylon Crawford, our Lead Implementation & Customer Support Specialist for the Chicago team, who shares her many talents and strengths inside and outside the workplace. Learn about her career, day to day life, and passions and philosophies that inspire her and make her an amazing person to work with. 
What is your job title and what do you do on a daily basis?
I am the lead implementation and customer support specialist for the Chicago area and working with a team to support a large account in the area. I work closely with our operations director Scott Balboni and the team by working with upper management and going out to the field to help with implementation. Some of my responsibilities include attending meetings, creating schedules, installing QR codes, setting up layouts, and providing support to the customer and my team. My role overall just involves me being hands on in anything account related which means I really am involved with all levels of work within the project. 
Although I am in a leadership role I feel as though my team and I are equal because I am often on site and involved with the same tasks as them. I really trust my team and can always rely on them to get the job done and that makes us a great team. We are always learning things from each other, as one day I might teach them things but another day they'll be teaching me things. I'm grateful to lead and interact with this amazing group of people.
Favorite part about working for CrowdComfort?
My favorite part about working for CrowdComfort is my bosses; Eric Graham, Kevin Loos and Scott Balboni. What's unique about CrowdComfort is that the CEOS Eric and Kevin are really involved with the company as they join us in the field to help with QR code installation and connect with people in all levels of the company. They always try to value our voices and treat all of their employees fairly, whether it's listening to concerns or sharing valuable insight and thoughts. Although they're the owners of the company they still create an environment in the company where people can have a voice.
My director Scott has also just been the best boss I've ever had and he tells me all the time there's no such thing as a dumb question and always validates me. We all have a friendly relationship which is something you don't always get in every company. There really is a connection between all levels of the company that builds trust and allows you to get the job done without being micromanaged. 
Where are you from and what college did you attend?
I have grown up and lived in the western suburbs outside of Chicago, so at the moment I am working in my own backyard. I actually have two bachelor degrees, one degree from Columbia college in downtown Chicago in fashion business and then a second degree from Devry University in Information Technology with a focus in mobile devices and network. I first graduated from Columbia and worked in business for a couple of years holding significant titles at different companies like IKEA or North Face. However, the fashion industry is very involved in retail and I wasn't happy with the lack of progress in that line of work and wanted to go back to school so I could separate myself from the industry. I was always the technology person for my family and always had people asking to fix their phones or help them with their computers. I didn't consider technology as a possible career but when I was considering returning to school I realized that I am good with computers and enjoyed helping people with technology. At that point I realized that I could turn my skills into a career.  
When I left retail and went to DeVry I was really taking a shot in the dark, but I felt really lucky because I found out that if I worked there I would get a free education in information technology. It felt like fate because that was the major I was going for in the first place and it solidified that I was making the right decision. People always joke with me about my degrees and ask if I'm thinking about getting another degree and I always laugh and say maybe. In all seriousness, I really am happy with the two degrees I have but I might go for a masters in the future. I am happy that my company is happy with my achievements and experience. I have never regretted seeking a different degree and pivoting to the tech industry because I got hired onto CrowdComfort after I graduated and have never been happier.
Do you have any hobbies or interests?
I like to call myself a renaissance person because I self taught myself to know how to do a lot of things and will always help people out however I can like helping with resumes or building web pages. I mean whatever someone wants help with I just somehow know how to do it. I actually have a candle company called "Keep Life Scented Candles" but it's on pause at the moment because I just bought a home and wanted to focus on finishing school. However, I would like to start it up again soon and I still make candles for family, friends, and coworkers that need some candles made for them. So I am basically the neighborhood candle supplier.  
On the side I also do business consulting to use my skills and experience from my fashion degree and business career. Some things I help people with are branding, as I'll give them advice on starting or building up their brand to launch their personal careers. I also have been creating a nonprofit organization for father figures that celebrates them for fathers day. It's for fathers, uncles, or anybody you know that stepped up to be a village for a person or family in the absence of a father or for just being a great father. So I organize that event once a year for my local park district. 
What's the best piece of advice you've ever received?
The best piece of advice that I've received is that you can't change the past so focus on the future. The past is the past, so don't dwell on it or you're not going to be able to thrive in the present or future because you're going to hinder yourself. One of my favorite quotes is "The definition of insanity is doing the same thing over and expecting different results" and it really resonates with this because being stuck in the past just leaves you in the same situation over and over again. From my own experience,  I've learned that you can't change the past, so you have to focus on the future, do better, and have hope that you'll see a better outcome.