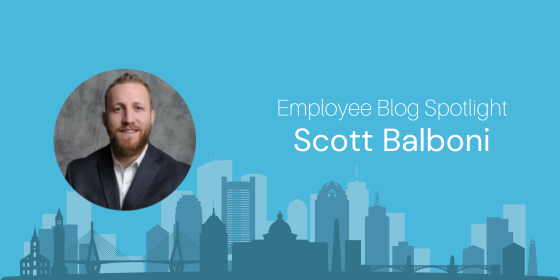 At CrowdComfort, we understand that the people make the company. That's why we wanted to highlight those that make our company great by introducing you to them through employee blog posts. You'll have the opportunity to take an inside look into our team's jobs and life, letting you know them beyond the CrowdComfort logo.
In this blog we interview Scott Balboni, the Director of Operations and Customer Success, who has been with the company almost since the beginning. Learn about his career, day to day life, and his passions and philosophies that inspire him and make him an amazing person to work with. 
What is your job title and what do you do on a daily basis?
I'm not a huge one for titles but I am the Director of Operations and Customer Success and on a daily basis I oversee all active accounts to schedule check-ins and to make sure everything is processing well.  Basically what that means is that I handle onboarding, training, site setup, data analytics, and bringing customers online. Overall my responsibilities are to make sure our customers are happy, that our product doesn't become  "shelf-ware", and that we're consistently providing value to our customers to ensure contracts are renewed/expanded.   
How many years have you worked at CrowdComfort and how have you seen your position evolve/responsibilities change? 
I'm coming up on eight years in August making me one of the longer tenured employees and for a while it was just me handling most of the operations/customer success duties along with Kevin Loos. After creating and evolving the Cleaning Maps product, we saw significant revenue growth and therefore needed to hire more employees to keep up with customer needs. In a way I went from doing everything to now being a teacher, manager, and coach to the rest of the team, which has been exciting for me.
Favorite part about working for CrowdComfort?
First and foremost, it's the people – When you like the people you work with, it makes for a great work environment. We have a  very collaborative atmosphere and we're constantly sharing thoughts & ideas to better the product and customer experience. Even outside of work, I feel very comfortable with my coworkers on a personal level. I think the key thing is that no one has an ego and everyone is humble. 
Secondly, it's been very exciting to watch the company evolve over the past few years. Prior to COVID we had one product offering and now offer four bonafide products each with market validation. These products evolved based on customer feedback, making strategic business decisions, and looking at the data to build ROI for clients. It's been a fun and creative process that's really helped grow the company.
Do you have any hobbies or interests?
When I'm not in Dad mode–yes. Some of my favorite things to do include hiking, skiing, jujitsu, cooking and geography. As a kid I always read maps and have been fascinated by different cultures. I was a big fan of Anthony Bourdain and think the world is an amazing place. If I had the opportunity, I would travel anywhere in the world. My bucket list travel destination is to visit the Himalayas.
Do you have a quote you like?
"Act like you've been here before" 
I first heard it in 2022 from the basketball coach of St Pete's, Shaheen Holloway, The year before last they were in the NCAA tournement for college basketball as a 15 seed. They made it all the way down to the final 4 which had never been done before by a 15 seed and he kept reiterating to his team "Act like you've been here before." In the last few years with CrowdComfort, we've really explored a lot of uncharted territory in terms of the industries we are branching off into and in my case training new employees. I found that there's not always things we understand, but I feel like if you present yourself with a level of confidence you will feel like you belong here and can handle whatever the customer or employee needs.