The idea below is one of many ideas from our 2023 Occupant Experience Ideabook (which you can download here). Today's idea comes from CrowdComfort's Kevin Loos, Chief Operations Officer. He discusses the different ways that an organization can drive retention of their employees, specifically those in the facilities and janitorial disciplines.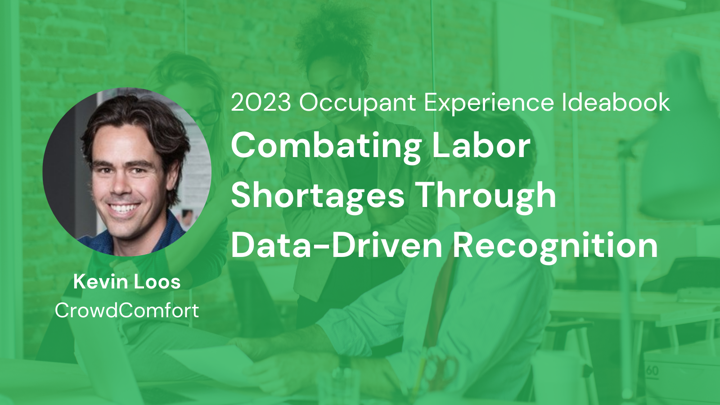 Kevin Loos, Chief Operations Officer, CrowdComfort
While the pandemic has forever changed the experiences for how we use spaces as occupants, it's had just as profound effect on the facilities, maintenance and custodial teams that ensure these positive experiences.
Over the past 2 years, we've seen an exodus of front line workers in facilities and janitorial from the workforce. There's various reasons for this including higher paying alternatives, health concerns and those just opting out of the workforce after being let go during the pandemic. The fact is that the facilities and janitorial disciplines are in a crisis for quality talent right now and it will continue to be a stressor for organizations, educational institutions and manufacturers.
The often forgotten roles that drive our occupant experiences are starting to demand more attention and it's up to organizations to drive retention of top employees in these disciplines. This means building better data sets and insights that enable them to be proactive in recognizing the impact this talent has on health, safety and productivity.
Higher pay, bonuses, promotions and simple recognition will be critical to maintain a top notch facilities and custodial team and it will be well worth the cost.
However, the organizations that can't measure and validate the work done by their teams, will lack the understanding to retain their top talent.
To read more ideas from the 2023 Occupant Experience Ideabook, download here.