The idea below is one of the 20+ ideas from our 2022 Workplace Experience Ideabook (which you can download here). Today's idea comes from HOK's Kay Sargent, who discusses the importance of creating an inviting and supportive workplace that attracts employees to make the transition back to the office.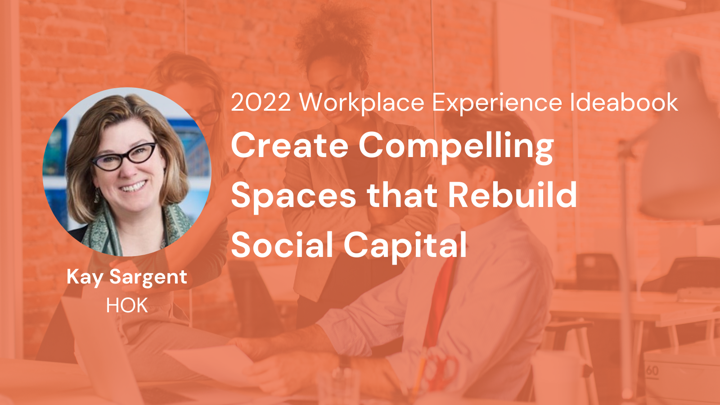 Kay Sargent, Senior Principal, Director of Workplace, HOK
In this new ecosystem of spaces, the purpose of place becomes increasing important. Although the HUB, or main office, serves more as a place where staff come together to connect with each other and clients, it must still provide a variety of work spaces for individuals between meetings or for those that simply prefer it as their primary location.
After all, working from home isn't for everyone. The younger generation seems to be less satisfied with remote work as they may not have the infrastructure, living conditions, or access to mentors that they desire. And over time, as confidence with how we are handling the pandemic increases, more individuals may be finding their way back to the workplace.
When people have options, we need to ensure we are creating compelling spaces that are enticing enough that people want to be there. Therefore, hubs, or main offices, must offer better technology, more intuitive work points, access to services and amenities and to clients and colleagues to make them desired destinations. And we also have an opportunity to create lifestyle studios that incorporate some of the best elements of remote working into our shared spaces. Be it neighborhoods that are pet-friendly; maker spaces that enable people to continue their newly adopted hobbies with their colleagues; or collective gardens or kitchens where teams can cook or eat together.
These spaces are not only enticing and supportive, but they enable teams to rebuild social capital through shared interested and foster a more human-centric approach to our shared spaces. 
To read more ideas from the 2022 Workplace Experience Ideabook, go to our download page.