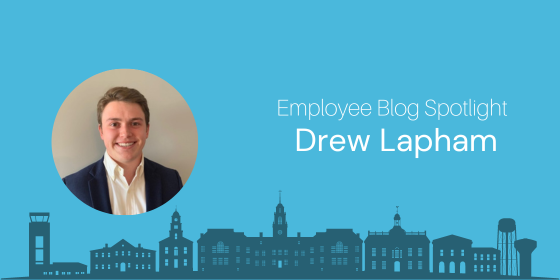 At CrowdComfort, we understand that the people make the company. That's why we wanted to highlight those that make our company great by introducing you to them through employee blog posts. You'll have the opportunity to take an inside look into our team's jobs and life, letting you know them beyond the CrowdComfort logo.
In this blog we interview Drew Lapham, Business Development Manager, who uses his education to know what's most important to potential clients. Learn about his career, day to day life, and his passions and philosophies that inspire him and make him an amazing person to work with.
What is you job title and what do you do on a daily basis?
I am a Business Development Manager, which is a fancy way of saying Sales. On a daily basis, we are responsible for finding new clients, new logos, identifying projects with them, and ultimately trying to generate revenue. So what that entails is a lot of cold calling, finding potential buyers whether that be on LinkedIn or just on the internet, reaching out to them, and just trying to close some business.
How does your education apply to your career?
I was a Finance and Economics major at University of Delaware. There's no direct correlation, but I would say I got a good understanding of how businesses operate in general and what's important to finance departments, which is ROI on these projects that we are proposing to them. This was my first real job out of school, so it's been an education in and of itself, and I've really enjoyed that.
What is your favorite part about working for CrowdComfort?
It's definitely the people. I love the culture here, everyone that I work with and even the people I don't work with that I don't get to see as often as I would like to. I like everyone that I work with on a daily basis, I've also had great bosses. I specifically want to shout out George Neble, he's our Vice President of Sales and I couldn't have asked for a better boss or a better mentor. We started on the same day and it's been really great working alongside him.
Do you have any hobbies or interests?
I definitely have too many hobbies. I golf, I've been golfing my whole life, I've skied my whole life, I play guitar, I really love listening to all sorts of music. I also draw, I'm really into art, drawing and painting. Also cooking, I worked in kitchens all throughout high school and into college so I've kept doing that in my free time. I like exercising, and I've gotten into hiking recently with my girlfriend.
What is the best piece of advice you've ever received?
"Work Hard, Play Hard"
It's kind of cliché, but it's one of my dad's many mantras. He actually became our CRO last year. It's something I've taken to heart, it kind of sounds silly but you can't really do your best work if you don't find time to blow off steam. I find I can't really enjoy myself during my downtime unless I can stand behind the work and be proud of what I've done.