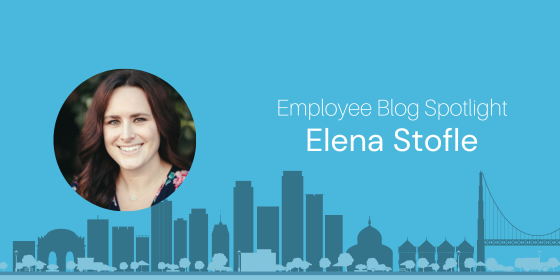 At CrowdComfort, we understand that the people make the company. That's why we wanted to highlight those that make our company great by introducing you to them through employee blog posts. You'll have the opportunity to take an inside look into our team's jobs and life, letting you know them beyond the CrowdComfort logo.
In this blog we interview Elena Stofle, Senior Customer Success Manager, who has unique education and industry experience. Learn about her career, day to day life, and her passions and philosophies that inspire her and make her an amazing person to work with. 
What is your job title and what do you do on a daily basis?
I am Senior Customer Success Manager, so I work on the Operations team. I was basically hired on to help out the Customer Success team as we went through some really fast growth. I help oversee existing accounts, onboard new clients, implement software on-site, and conduct training for employees, managers and supervisors. I check-in and ensure client success and satisfaction, as well as communicate between the Ops and Tech teams to make improvements and upgrades. 
How does your education apply to your career?
When I completed my Air Force enlistment in 2012, I decided to study English with a minor in Business at Florida State University (Go Noles!). My English degree helped me so much with my communication skills which is helpful when providing support to clients. I was also able to work at a small book publishing company for about 3 years, where I served as the Operations Manager. While there, I pursued my MBA from Saint Mary's College of California. 
My MBA program taught me a lot about data analytics and the best attitudes to have when developing a business strategy. I learned pretty quickly that Operations was the place for me, as I really enjoy autonomy and the ability to engage in creative problem-solving. I love to improve processes and make life easier for the next person. 
The most valuable education I received came from my 15 years as a customer service representative. Being a CSR is really hard; you have to be ready to take (often loud) negative feedback, drop everything to put out a fire, and maintain excellence and a positive attitude at all times. My time as a CSR helped me in my journey to my current role. 
Favorite part about working for CrowdComfort?
I love how it feels to be a part of a really healthy work dynamic. At CrowdComfort, it feels like there's an unofficial "no micromanaging" policy. We have great perks and flexible work hours; they prove that they have trust in their employees. We have a lot of space to grow because they know we will get the work done. It's just a really supportive environment.
Do you have any hobbies or interests?
I love to draw, write, and I really like to read. I enjoy genres such as young adult, historical fiction, and philosophy. At the moment, I'm working through the historical nonfiction catalog of James Romm. He writes a lot about the ancient world, such as Hellenistic Greece and Macedonia. I find it really diverting to learn about cultures of the past, as well as the powerful figures who influenced the future, for better or worse. I also enjoy the works of Thich Nhat Hanh's, a buddhist monk who wrote dozens of books on finding peace and happiness in your everyday life. I enjoy challenging my perception through philosophy.
What's the best piece of advice you've received? 
"Don't be afraid to make mistakes."
A lot of times our first instinct is to hide our missteps, but they are a natural part of the growth process. It's valuable to take the time to think through them with a non judgemental lens and ask yourself what you could do differently next time. I benefit so much from trial and error. Letting go of blame (for yourself and others) will help foster an environment that encourages growth.