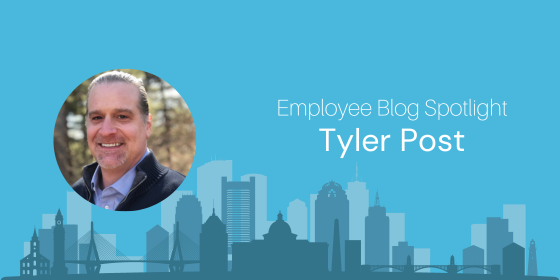 At CrowdComfort, we understand that the people make the company. That's why we wanted to highlight those that make our company great by introducing you to them through employee blog posts. You'll have the opportunity to take an inside look into our team's jobs and life, letting you know them beyond the CrowdComfort logo.
In this blog we interview Tyler Post, an Inside Sales Representative, who made a recent career change. Learn about his career, day to day life, and his passions and philosophies that inspire him and make him an amazing person to work with. 
What is your Job title and what do you do on a daily basis?
I am an Inside Sales Representative and I handle researching and connecting with people from different prospective companies and organizations and set up meetings with Sales Executives. I usually work with large school districts and spend time finding contact information for superintendents or the head of facilities, and looking through strategic plans. 
By speaking to these contacts and researching their plans gives me a deeper understanding of their custodial and facilities issues and really come to understand what they need. From there I learn the ways CrowdComfort fits into their improvement plans and where we can help them be more efficient and save money. Through that both the prospective customer and the sales executive get an understanding of where we stand and have a foundation for setting up a sale. 
Where are you from and/or what college did you attend?
I'm from Wayland Massachusetts and I studied education at Bowdoin college and received my masters at Harvard University. It took me some time to realize that I wanted to study education and was glad I did because it was a great field to work in. After a while I decided I wanted to try a new challenge and discovered that sales was a good fit for me. But my education and career experience has been beneficial for me. 
How does your education apply to your career?
I originally studied education and worked as an educator and principal for many years before I entered sales. I have found many applications for my teaching career within sales because of the communication skills and experience it has given me. Teaching forces you to break down a topic and communicate it as easily and effectively as possible. Through that communication style I have been able to explain our product and value easily to our prospective customers. 
More importantly, my experience as an educator has really helped me with Sales at CrowdComfort because I started out working with these school districts. I really understood what it is like to work with custodians and playing a central role in making sure a building is safe and clean. If a space isn't clean and welcoming, it is difficult to learn and teach. But at the same time it isn't considered an important aspect of education because it's not a piece of the puzzle most people consider. It becomes a thankless job, but my experience informs me of what a lot of those men and women go through. So having a product that can track the work they do and result in them getting appreciated is just very important to me. 
When I decided to enter sales I wanted to work with a company that helps educators. I thought I could help by working in sales for a company selling education technology or equipment. However once I got to know CrowdComfort, I realized that cleaning was an education related technology that I hadn't realized I could help with. As a past principal I saw this as a part of a major issue within the education system that I could help solve. 
Do you have any hobbies or interests?
Well I have a wife and three kids so that takes up a lot of my time for sure, so I had to put aside hobbies. I used to be really into photography but I don't have too much time for it now so I've taken time to discover new passions. 
I've started to work out and I've also really gotten into fishing and enjoy going out to fish with my son which is always a nice bonding experience. I still have time for my love of sports like football and keeping up with college football. I'll probably have more time for my new and old interests when my kids get older but for now I'm happy with the time I have. 
What's the best piece of advice you've ever received?
It hasn't been from one particular person but it's been a theme that people have always communicated to me in different ways which is the value of hard work. Nothing good can really come unless you put a lot of work into it, and just putting 50% into a job won't always give you the best results. It's very cliche but I feel like it's advice that I've gotten in different ways over the years, so nothing earth shattering but I've always felt it served me well.