Leader in mobile-first facilities experience solutions helps cleaning contractors provide unparalleled transparency to customers.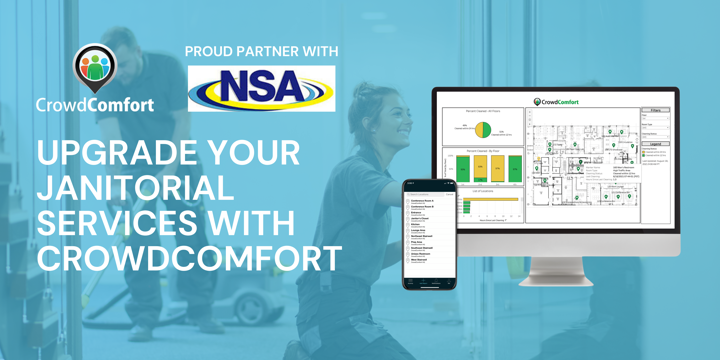 CrowdComfort, the leader in mobile-first facilities management and workplace experience solutions, today announced a partnership with the National Service Alliance (NSA) to provide members with preferred access to its Cleaning Maps and Analytics solution.
The CrowdComfort solution enables contract cleaning businesses with a centralized way to easily track cleaning activities with a dedicated mobile app while providing robust analytics reporting to improve cleaning compliance, resource allocation and real-time team performance.
Partnering with National Service Alliance
The National Service Alliance is the premier Group Purchasing Organization for Building Service Contractors. Highly trusted with a principled presence within the cleaning industry for more than 25 years, they negotiate and build relationships with distributor and manufacturer partners to provide cost effective and growth oriented solutions to their contract cleaning company members.
CrowdComfort has consistently grown their cleaning partner network with providers such as Servicon, 4M, Enhancity Facility Solutions, Affineco, Red Coats, Service By Medallion and OPIS among others leveraging Cleaning Maps to drive more value and revenue with their customers.
"As we continue to build out our partner network, we quickly identified the National Service Alliance as a solid top tier partner," said Chief Revenue Officer Eric Lapham. "We are excited to partner with Michael and the NSA to provide contract cleaning companies the best-in-class solutions they need to drive operational efficiency, win more bids and most importantly, grow their business.
Why CrowdComfort?
With the increased need for data on health & safety within our workplaces and facilities, CrowdComfort has seen significant interest and adoption of its Cleaning Maps & Analytics solution. Last year, CrowdComfort tracked over 1.5 million unique cleaning activities across the U.S. and expect to more than triple that this year.
The partnership program provides contract cleaning providers with real-time data and analytics about the cleaning, sanitization and disinfection activities happening within client workplaces and facilities. Providers use the data to improve operational performance of their cleaning teams with pre-built reporting they can share with their clients to prove the value of their services.
Key Features include:
Real-time cleaning activity tracking by location and site

Pre-built compliance and performance reports that can be shared with customers without pulling into Excel

Staff and site performance reporting to drive efficiency and better resource allocation

Complete quality assurance module to ensure quality of cleaning by staff
"COVID-19 has forced innovation in the cleaning industry from the chemicals we use to the technology to drive operational performance," said NSA President Michael Conrad. "With CrowdComfort, our members can more effectively run their business and more easily prove their everyday value to clients and prospects."
Learn More about Cleaning Maps
For more information on the partnership program and what we can provide to NSA members visit https://www.crowdcomfort.com/national-service-alliance
About CrowdComfort
CrowdComfort's mobile app and analytics enables employees, facilities management teams and third-party vendors to collaborate on workplace requests, streamlining operations to ensure a safe and productive employee work environment. During return to the office, CrowdComfort is helping organizations digitally validate their cleaning activities to ensure a safe and clean health-conscious workplace environment.
Trusted by a growing list of the Fortune 1000, CrowdComfort helps businesses resolve work order requests four times (4x) faster, decrease facilities costs by up to $0.40 per square foot annually, earn employee satisfaction scores of over 97% and reduce risk with 100% cleaning transparency and compliance. 
Based in Boston, you can learn more about CrowdComfort at www.crowdcomfort.com.