The idea below is one of the 20+ ideas from our 2022 Workplace Experience Ideabook (which you can download here). Today's idea comes from Occupier's Matt Giffune, who discusses how commercial real estate must adjust to the new normal and humanize their spaces to meet the needs of employees.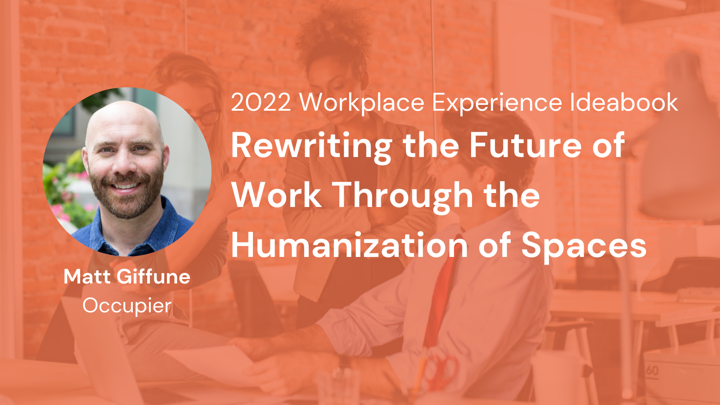 Matt Giffune, Co-founder & CEO, Occupier
The next phase of change in commercial real estate will be the humanization of the spaces we occupy. As a result of shifts that were only accelerated by the pandemic, employees are rewriting the future of work, and thus occupancy of space. Companies who listen to their employees will be on the right side of history and will maintain an advantage over their competitors.
Employees want community, flexibility, and accessibility. In 2021, our office users increased their location count by 38%. That stat is the result of office occupiers adopting hybrid models and smaller footprints to accommodate employees who have moved away from cities. Employees want to be closer to home, closer to their families, and closer to their everyday lives.
It is time to reevaluate the purpose of the office. Think of it as a community hub. A place for teams, clients, and associates to meet, brainstorm, and collaborate. On average 30% of an individual's time is spent at work. So, where, how, and why we work will be community driven.
To read more ideas from the 2022 Workplace Experience Ideabook, go to our download page.