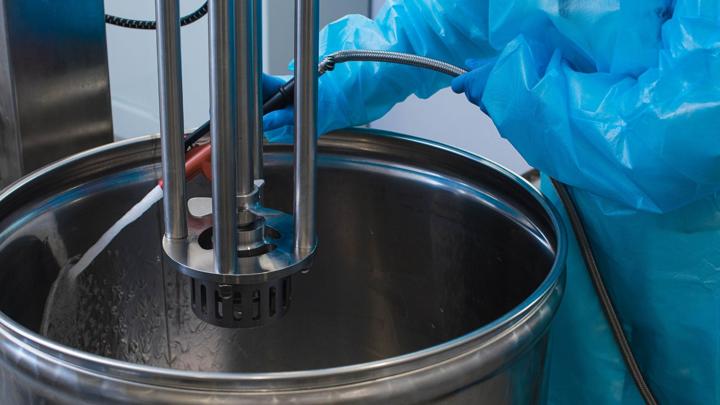 The Life Sciences industry is full of regulations that challenge teams to create quality assurance with their products. Each company has to meet the stringent requirements of Good Manufacturing Practices (GMP) and Good Distribution practices (GDP) that ensure throughout the manufacturing and supply chain process that each product meets a specific standard. 
Each point of the production process requires that these standards are met and reported via GMP collection programs and robust software solutions. However, while many Life Sciences companies measure their GMP processes with significant granularity, many fail to bring that level of scrutiny and auditability to the environments they manage especially when it comes to everyday cleaning and facilities services work.
This is significant. Spaces like cleanrooms, lab space, workplaces and storage facilities meet cleanliness and quality control requirements and healthy, clean and responsive environments can ensure the teams have less downtime, identify issues faster and protect from heightened risks. However, gaps within tracking and auditing custodial and maintenance operations could block companies from achieving company goals, hampering the ability to increase productivity, ensure quality, and protect from threats.
This post will look at the technologies that can help foster efficient facilities and custodial operations and how they can help companies reduce risk.
A Look into the Tracking Technology at Your Disposal
For most Life Sciences organizations, they have technology and software that helps them catalog and create auditable data analytics to ensure proper GMP and GDP processes. What we've seen recently is an influx of facilities management and cleaning software tools that provide facilities leaders with the data they need to enhance their data and reporting capabilities for the people doing the work in their buildings and spaces.The most common disruptive technologies include: 
Mobile-First Facilities App:

These are apps that enable lab staff and facilities to collaborate in the identification and resolution of issues in the building through work order management and easy request options.

Cleaning Validation Software:

Software that tracks and validates daily cleaning work by time of day, type and location and key employee performance data metrics for custodial operations.

Cleaning Quality Assurance Software:

Software that enables managers and team leads to measure the quality of cleaning work by custodial staff. 
All the tools and services above can help Life Sciences companies create these environments, reducing risks and providing quality assurance through increased safety and proficiency.
Much like GMP software, companies will lower risks by providing transparency for themselves within the custodial and operations process allowing for them to give clear instructions and identify problems while saving time and money. This will also help improve efficiency with centralized reporting on all activities and work within the space so facilities leaders can improve day-to-day processes and strategies.
4 Ways to Reduce Risk with Facilities Data Validation Software
Having technology that captures and audits your everyday cleaning and facilities services efforts can not only help make audits simpler and more successful but they can help companies accurately and confidently reduce risk in everyday operations. 
Here are 4 ways that these technologies can help Life Science companies reduce risk:
#1 Ensure Cleaning Standards are Met Every Day
With stringent guidelines on the quality and sanitation of spaces like cleanrooms it is necessary to ensure that the standards are met. But it is difficult to notify and keep track of the work done by the cleaning and maintenance staff, especially if you use building service contractors (BSC) and don't have the same workers coming in every day. 
If you are using BSC partners, it's also integral to be able to determine that they are meeting the contract's cleaning standards every day. In basic terms, that means having metrics that organizations are getting what they are paying for their services. Standards differ by room type and building and should be able to validate all work consistently every day.
Many lab spaces might go the traditional route and leave paper guidelines for custodial or maintenance crew. Paper lists are difficult to track down and change out, making it hard for management to know what tasks were completed and how often. And compiling this information for an auditor is often cumbersome and time consuming assuming you are able to store all the paper logs.
Through cleaning validation and quality assurance software, managers can create detailed lists and even receive confirmation of the completion of tasks measuring cleaning performance and quality. Tools within the auditing and validation process create cleaning and maintenance quality assurance affording less opportunities for error thanks to a well-informed and responsive staff.
#2 Quickly Resolve Accidents and Prevent Them in the Future
In the Life Science industry, accidents happen with or without error but need to be investigated so they aren't repeated. GMP data logs enable the quick identification of missed or incorrect steps meaning that companies can be quick and efficient in determining the root cause of the issue. 
However, GMP systems often do not account for cleaning or maintenance work data and analytics meaning that facilities leaders have to use a separate record keeping system. With paper logs, understanding quickly who, what and where of cleaning and facilities work completed where an accident occurred can be difficult. 
When it comes to determining the root cause of an issue, facility leaders need better data validation and collection for all the work done by members of staff so they can find the root of an issue. By collecting data on custodial and operations work digitally, managers can determine quickly if spaces were cleaned or repaired, providing a level of transparency and accountability. This can be added to GMP data to better understand the root cause and prevent accidents in the future due to cleaning or maintenance.
#3 Lowering Downtime and Raising Uptime
In Life Sciences, downtime is a huge drain on the organization.  If equipment breaks down or gets damaged the entire operation of a product is stalled and materials and product might be damaged. During breakdowns, minutes matter as time equals money lost taking down the company profit. 
Many Life Sciences organizations still have information chaos in reporting issues and requests. Whether it's broken equipment, hand sanitizer refills, plumbing issues or hot/cold calls, many organizations still have a combination of decentralized ways to report these requests from post-it notes, phone calls, emails, in-person conversations and outdated web portals.
In many organizations, lab technicians have to scramble to hunt down a maintenance worker or manager to fix the issue and/or are confused on what the process should be. This often leaves issues unidentified and resolution times higher than they should be. The time spent searching and combing through all the requests from different channels adds up leading to lost production time or damaged product. 
By having a mobile-first workplace request system, lab technicians no longer have to search for operations service workers, saving time and money in the process. Facilities leaders and their maintenance workers also benefit from getting a clear view of the issue at hand, enabling them to act quicker and get the tools they need to fix the machine, resolve a facilities issue or create a better working environment. With the click of a button, the production line will be up and running again faster, saving the company time and money. 
#4 Adding Additional Security for Lab Contamination Control
Life science labs tend to deal with hazardous materials or infectious diseases, creating a risk for exposure on the job site. Because of the risks, it is important that companies have the means to track and determine employees coming and going throughout facilities.
GMP services make this possible for lab technicians and other production staff, but only have a general idea of the times and places custodial and maintenance staff visited. Badging data can be used in this case but many times can be confused depending on who is working that day or shift especially if a temporary worker. Without a digital method of auditing cleaning data, understanding which custodial staff members were in these areas during the times of contamination can be difficult to ascertain. 
Finding information in high stakes scenarios needs to be quick and having daily cleaning validation software can let managers know the who, what and where for each cleaning throughout the day. Quick actions like this save lives and give your team a fuller picture of all the people that were in the area during the contamination for contact tracing.
Reduce Risk with better Facilities and Cleaning Operations Data
Life Science organizations take data and auditing seriously with quality assurance across all of their processes and GMP software. However, this data is often lacking in the facilities and custodial operations of the work being done every day. 
With digital technologies around facilities requests, cleaning validation and cleaning quality assurance, facilities leaders can have a peace of mind that the facilities and cleaning work required is being done consistently up to their standards. With a full audit trail, should they need it in a crisis or audit.
With new emerging mobile-first technologies, collecting and analyzing data has never been easier, providing a greater transparency for the work people do to make Life Sciences environments healthy, safe and responsive.