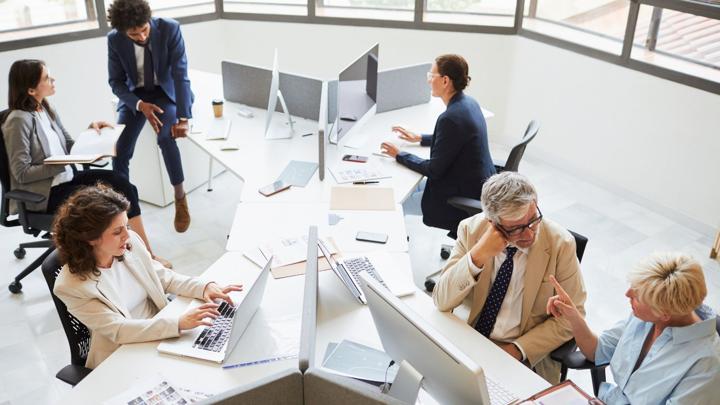 Industry leaders like Google, Goldman Sachs, and Apple are preparing to return to the office this autumn, and many organizations are following suit. But with 75% of offices on track to reach capacity by the end of 2021, returning to the office post-COVID comes with a unique set of challenges. Thankfully, there is a solution for the hardships of juggling the new hybrid working model with ever-changing regulations and employee morale: technology. 
Technology can help us make a safe return 
In a recent survey of CRE professionals reported by Forbes, 52% of CRE managers felt only "somewhat prepared" to provide a safe and healthy environment for their employees to return to in-person work. Luckily for them, tech is here to help. Or at least that's what 94%  of companies and 85% of employees believe. 
Still don't believe in the power of tech? Let's dive into some specific problems regarding the return to the office and their tech solutions.  
Problem: How can Organizations Best Utilize Space While Still Adhering to Distancing and Capacity Guidelines?
While COVID cases have eased in recent weeks, the six-feet-of-distance rule has not. For offices, this means a great reduction of in-office capacity. It is important that employers leverage all tools available to maximize this restriction on space while still adhering to guidelines. 
1. Solution →  Occupancy Sensors:
Occupancy sensors are tools that utilize AI and object-detection to provide an organization with real-time, accurate occupancy data that surpasses the effectiveness of typical occupancy surveys. These sensors can measure the distance between employees by means of how they move, where they are congregating, and more. This information is then reported anonymously and precisely, and can alert employers if capacity has been exceeded or if a space requires cleaning. 
By allowing organizations to see their space visually, occupancy sensors help businesses best optimize the use of their space while also adhering to distancing guidelines. As a result, employee experiences in the new office environment are improved. 
2. Solution → Occupancy Based Cleaning:
As employees return to work, organizations will need a system for tracking high-traffic areas and surfaces and alerting cleaning staff when they need to be sanitized after use. To ensure that desks, conference rooms, and other areas are being cleaned adequately, organizations can integrate their desk and room booking and/or sensor technologies with cleaning maps & analytics solutions to do cleaning based on occupant usage.
It works like this: each desk or room is designated a specific QR code which employees can scan to report their occupancy. When finished, the employee rescans the code to relay they are done. Cleaning staff is alerted that the area needs to be sanitized, and any employee who tries to use the space before cleaning can see upon scanning the QR code that it is not yet ready for use. Cleaning staff uses the QR code to report when the space has been cleaned and is again ready for use. This solution not only promotes health and safety, but also helps organizations better manage their budgets by ensuring they are only cleaning the areas that have been used. 
Problem: How Can Organizations Ensure Reliability and Security of Tech In and Out of Office?
The emergence of the new hybrid working model has provided employees with the opportunity to work more flexibly, typically allowing them to split their time between their home office and in-person work. But despite the benefits of hybrid work such as increased productivity and higher job satisfaction, this new approach has given rise to questions about the efficacy and usability of workplace tech, especially when shifting between in-office and at-home. Employees should be confident in the reliability of their tech and be certain that their networks are safe and secure.
3. Solution → Cloud Expansion: 
The Cloud functions by saving data in one remote physical location that can be accessed by any device via the internet rather than saving data in a local storage or hard disk. This is done by means of a cloud provider, which users send their files to instead of saving them to their own hard drives. Data is stored across multiple servers to ensure that if one collapses, your data can be managed by another that will keep it safe and supervised. 
One study conducted by Salesforce found that 94% of businesses claimed they saw an improvement in security after switching to the cloud while another 91% said that the cloud also makes it easier to meet government compliance requirements. But utilizing the cloud in your business has more than just security advantages.
Other advantages of cloud expansion include:
i. Better Collaboration: Because multiple people can have access to a single cloud network, employees at home and in the office can collaborate through common files. They can also edit these shared files in real-time, allowing them to collaborate no matter where they are
ii. Enhances the Mobility of the Hybrid Workplace:  Not only can employees at home and in office collaborate and see shared documents, but the cloud also makes it possible for all necessary documents and resources from multiple devices to be stored in one secure, accessible place. Moreover, edits that are made on one device are automatically transferred to another connected device, making the integration between at-home and in-office technology easy. 
iii. Cost Effectiveness: When using a cloud system, organizations are able to reduce their expenses on internal resources and systems of managing and storing data by outsourcing it to the Cloud. 
4. Solution → Network Security Systems: 
If left unprotected, Wi-Fi routers of at-home workers can easily become compromised and data corrupt. To solve the issue of network security in the new hybrid workplace, organizations can implement a solution like SD-WAN (software defined networking). Benefits of SD-WAN for network security include: 
i. Increased Flexibility: SD-WAN allows organizations to scale connectivity up and down, therefore improving connectivity between those working in-office and at home. This scaling also allows organizations to reduce expenses, as they can avoid over provisioning their networks. 
ii. Centralized Management and Higher Visibility: SD-WAN gets rid of expensive routing and allows connectivity and services to come from a centralized location (for example, the Cloud). 
Problem: 52% of CRE Managers Feel Only "Somewhat Prepared" to Provide Safe and Healthy Environments for the Return to the Office
5. Solution →  Cleaning and Sanitation Transparency and Compliance:
To increase confidence in returning to the in-office environment, create a comprehensive cleaning and sanitization plan prior to return. Make sure to be transparent about all planned health and safety protocols, communicating the plan through appropriate channels. Use a centralized system to gather real data about cleaning and sanitization needs and make decisions based on these cleaning analytics. Focus on integrating the typical background role of facilities management more into the daily operations of a business. 
6. Solution → On-Demand Office Services:
Employees returning to the office will need quick and easy ways to access resources in order for them to be successful. One way organizations can provide this experience for them is with mobile workplace request apps that provide a single experience for all requests. Organizations can utilize a centralized, completely digital system of reporting and resolving workplace related issues. A system like this simplifies the way employees make workplace requests and ensures that problems get resolved as quickly as possible. It also improves the employee experience as it replaces the low feedback methods of phone numbers, emails or web portals that rarely get used.
This allows organizations to save time, money, and resources while also improving employee experiences at work
Problem: Fairness Between At-Home and In-Office Employees
As the majority of organizations switch to a hybrid working model, worries rise that in-office employees may have an advantage over those at home. To ensure that all employees have access to the same resources, employers should leverage tools that integrate the at-home and in-office experiences. 
7. Solution → Managing communication tools such as video conferencing and mobile apps:
i. Whiteboard Apps: While we are all familiar with Zoom, other tech solutions that can facilitate equality of employee experiences include applications such as Microsoft Whiteboard App and Google Jamboard. These cloud-connected whiteboards allow people working at home to view and add to whiteboards existing in physical office spaces, facilitating collaboration, communication, and fairness between all employees in the new hybrid model. 
Although the new hybrid working model gives rise to new challenges and concerns, there are many existing tech solutions that offer support and reinforcement both at home and in the office. Leveraging these technologies can help an organization improve employee satisfaction, productivity, and connect employees no matter where they choose to work.