The idea below is one of the 20+ ideas from our 2022 Workplace Experience Ideabook (which you can download here). Today's idea comes from Servicon's CEO Laurie Sewell who explains that setting out plans for continuous improvements allows company to keep success going.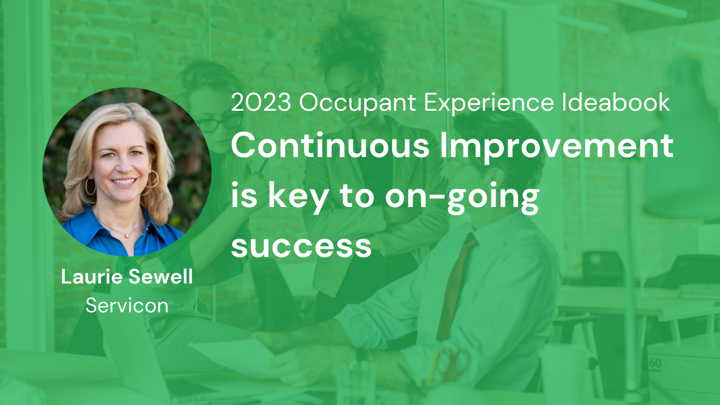 Our job is to provide healthy environments for people to thrive. This means adapting to meet the client's needs, from focusing on infection prevention to adjusting services for changing occupancy rates.
This necessitates a culture of compassion and an expertise in complexity. After all, service work is performed by people, and every client's facility is unique. The only consistent way to maintain that culture and expertise is by implementing a process of continuous improvement.
What worked yesterday might not work tomorrow. Be on the lookout for new technologies that provide ways to capture data, train staff, and validate your work. It can be overwhelming to stay ahead of the curve, but it's worth it.
What does this look like? To me, it's about establishing a consistent process above all else. No single product or initiative is sufficient. Ongoing training, pilot programs to test new methods and communication platforms, command of the supply chain for equipment, and monthly KPI tracking foster an ever evolving and improving client experience. By shifting your mindset to a holistic approach of continuous improvement, organizations can become more agile and adaptable to the changing needs of their workforce and clients.
To read more ideas from the 2023 Occupant Experience Ideabook, go to our download page.