The idea below is one of the 20+ ideas from our 2023 Occupant Experience Ideabook (which you can download here). Today's idea comes from MIT Center of Real Estate's Director of the Real Estate Technology Hub James Scott who discusses how technology will be a driving force in improving the environments we live and work in.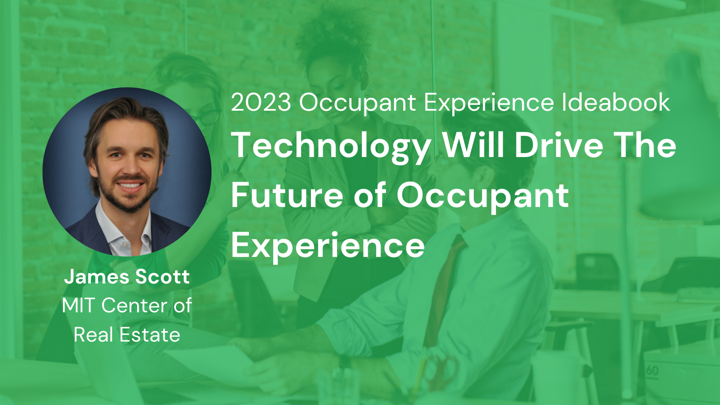 James Scott, Director of the Real Estate Technology Hub, MIT Center of Real Estate
What tenants and occupiers now need and expect has changed dramatically. Expectations have evolved considerably, pre and post pandemic, with trends such as work from home significantly
altering how occupiers work in and use space, potentially alerting the very fabric of how office space will be utilized in future years.
Artificial Intelligence will see a significant rise in its use to increase a building's energy efficiency along with tenant experience, with data visualization in the form of Digital Twin technology enabling reduced operating expenses.
Energy consumption, and the need to reduce it along with a building's carbon emission, will only continue to become a bigger issue for building operators as regulation continues to take
hold. With that, we expect to see a significant increase in electrification and an increase in the use of circular economy principles.
The implementation of technology is now necessary in ensuring the optimization of building management. With an increasing need to reduce carbon emissions, enhance energy performance, along with occupants' health and wellness, and even ensuring the highest and best use of the space, technology is assisting those who embrace it to strategically ensure they have a significant competitive advantage in a tight margin
To read more ideas from the 2023 Occupant Experience Ideabook, go to our download page.