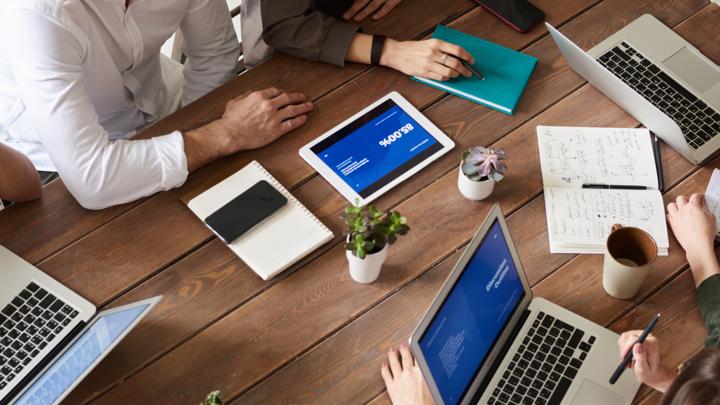 Covid was a forcing function for technology adoption in the office environment to accommodate the workflows of the pandemic. Existing technologies helped guide the way at the onset of the pandemic, but it didn't take long to realize that the functionality of technology in all settings would need to change in order to fit the new normal of workplace interactions. The pandemic allowed organizations and facilities management teams to realize the gaps in existing technologies and the data they were capturing. 
Now, in 2021, 65% of enterprises are investing in workplace enablement tools, and technology has become more integrated with the office than ever before. As restrictions are lifted and many organizations announce plans for returning to the office, we expect the following technology trends to have a continued impact on the daily operations of the workplace. 
Trend #1: Continued increase in the adoption of touchless technologies 
QR codes, digital kiosks, mobile check-ins, and other touchless technologies are not new, but the pandemic has exponentially increased their use and adoption into daily life. As concerns surrounding safety and the spread of germs increased, demand for touchless technology in the workplace skyrocketed. 
Many common spaces and bathrooms were quickly updated to accommodate touchless plumbing solutions, soap and paper towel dispensers, hands free entry ways, water stations, and more. Health screenings were adopted onto a mobile format and QR codes took on a large role in the operations and communication of organizations. Shift to mobile devices and scanning of QR codes allowed employees to complete simple tasks, access information, or send data without interacting with others and touching anything besides their smartphone. 
With 75% of enterprises rating safety as the primary concern in their return to the office strategy in 2021, it can be anticipated that many of these technologies are here to stay. Covid has changed the way many people view hygiene in common spaces, and touchless technologies are going to continue to ensure comfortability in the workplace.  
Trend #2: Digitization of Data
Face-to-face interaction in the workplace has become a rare occurrence, but even as companies begin a shift to in-person work again, the use of digital technology will continue to lead workplace interaction. The pandemic introduced new technologies and changes to existing technologies that allowed for the company experience to exist solely on a digital platform. These introductions, however, have not only fostered safer methods of interaction but have also allowed organizations to see the efficiency of digital platforms in capturing real-time data that can be used in the return to office and beyond.
Gone are the days of manual tracking and communication in facilities management and the employee experience. The digitization of technology in the workplace allows facilities management to become more visible and readily available to respond to the needs of employees. It also allows for real-time updates in health & safety, maintenance, and cleaning status. More accurate and up to date data helps all levels of an organization make informed decisions more efficiently. In a time when facilities management will take on a larger responsibility in the office and become a workplace leader, it can be expected that digital technology will become an office staple.
Trend #3: Use of Office Organizational Technologies
Statistics are showing that 84% of enterprises are planning a hybrid return to office. This means many structural changes around the office, including layout of common areas, desks, and conference rooms. It also means inconsistent occupancy and use of office space, a factor that impacts the role of facilities management and their ability to accurately maintain a space while also balancing costs and resources. In order to organize the gradual return to the workplace, many office spaces have turned to the use of organizational technologies and occupancy tracking systems such as desk/office booking and hot offices. Smart building technology investment is on the rise, with reports showing an increase in investment in occupancy sensors, desk reservation systems, and meeting room booking technologies in 2021.
A hybrid return to office plan will continue to foster the use of these technologies for both the benefit of the employee and the facilities management teams. Allowing all members of a company to see when a space is booked and when it has been used can allow employees to save time, limit contacts, and keep updated on when a space should be cleaned. These technologies can also allow employees to see when others will be in the office and decide which days they want/can come in. 
New technology has filled the missing gaps in experience and accessible data
The operations of the office have changed drastically since we left them last March, and it's unreasonable to assume they will ever go back to the way they were. These trends in technology focus on enhancing the new employee experience and lend to the idea that there has been a need for an increase in accessible data in the new workplace. Easily accessible data allows for an increased focus on customer satisfaction from facilities management through consistent communication, effective responsiveness, and comfortability among employees. Technological adoption has eased the transition back to the office, and has even shown many people what was missing from our experiences prior to the pandemic.